Thousands of professional arborists, landscapers and gardeners worldwide count on ECHO every working day. They demand reliable and dependable tools that reduce fatigue, are comfortable to use and perform to the very highest professional standards.
ECHO's X Series is a range of "best-in-class" products that are industry-leading in terms of performance. Each model has specific features that are designed to help professionals perform their jobs better.
JAPAN TECHNOLOGY - You know that equipment designed in Japan will be reliable. Well built. Dependable. Professional. Durable. Japan is the home of technological craftsmanship and the nation has won international respect for its manufacturing expertise.

The ECHO WARRANTY is a statement of confidence. Professional user two year warranty as standard. For domestic users, a five year warranty.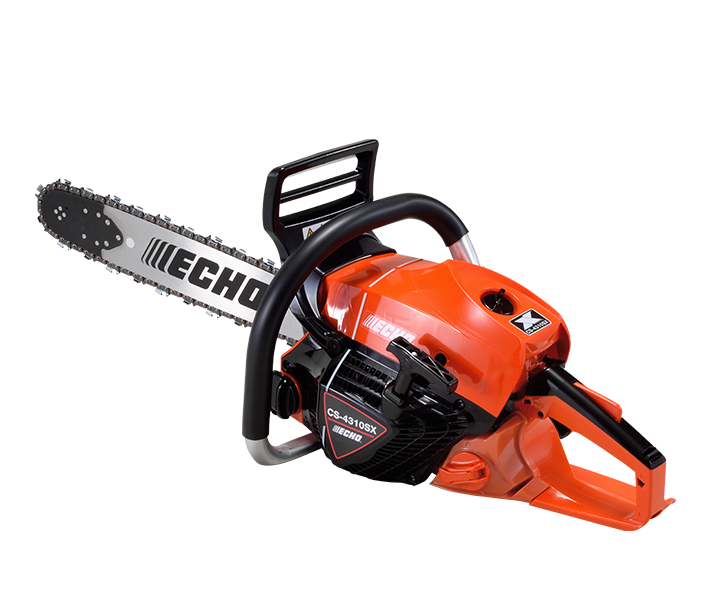 New to the range ECHO's CS-4310SX has the best power to weight ratio in its class making it truly worthy of its place in the X-series, best in class and often industry leading line up of products. This means amongst 40 cc saws it is the lightest and most powerful, weighing just 4.3 kg and generating a massive 70 ps/L of power. In terms of engineering and design. The saw's incredible light weight and high power output mean it excels at a wide range of jobs. Save time and energy whilst increasing your productivity.
Heavy-duty aluminum handle with rubber grip for secure grip and 3-point anti vibration spring.
Features for easy maintenance:
Momentary switch for quick and easy engine restart.
Rotating plastic chain catcher.
Side access chain tensioner for easy chain adjustment.
Flip lever caps for easy refilling.
Drop prevention nuts as standard.
Translucent fuel tank shows fuel level.
Echo introduce their most powerful handheld blower PB-2620 and the Industry's most powerful Backpack Blower PB-8010
The PB-2620 is part of the ECHO X Series of best-in-class products, designed to be industry-leading in terms of power and performance. Featuring a 25.4cc two-stroke engine with an output of 0.91kW and producing a maximum airspeed of 80.5m/sec when using the flat nozzle, the PB-2620 is, say ECHO, the most powerful handheld blower in its class. More than enough for clearing wet leaves and heavier debris. The premium-grade ECHO engine and dry weight of 4.4kg combine to give an excellent power to weight ratio.
Along with the power comes precision and comfort in the way the blower is designed. A secondary handle improves manoeuvrability and the ergonomically grouped controls, including a throttle with 'cruise control', are easy to reach.
The PB-8010 is ECHO's largest and most powerful backpack blower.
A best-in-class product, it features a 79.9cc two-stroke engine producing an air volume of 1818m3/h, air speed of 94.5m/sec and a blowing force of 44N. Delivering an excellent power-to-weight ratio, the PB-8010 weighs just 11.2kg with an output of 4.2kW.
Features include a lightweight carbon fibre frame, cruise-control throttle, ventilated backpack pad, anti-vibration system and heavy duty straps. See the PB-8010 in action.
This product is part of ECHO's X Series range of "best-in-class" products.